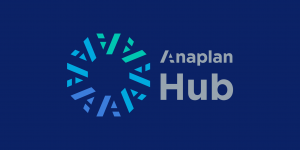 At its Hub17 conference, Anaplan announced several new innovations and capabilities to its platform to support its mission of driving a new age of connected planning. What this means to me as the announcements unfolded, was collaborative and in context planning, that brings together people, data and plans seamlessly within an organization. Honestly, this has to be the goal in every organization as we make the paradigm shift towards conversational enterprises.
So What's New at Anaplan
Anaplan unveiled its new branding and brand identity with a new logo. Its Anaplan Community that was relaunched is a collaboration portal that enables Anaplan customers, partners and employees to foster collaborative connections for sharing planning strategies and critical business decisions. This follows the theme of connected planning and to me shows that organizational silos and walls have to be broken down to allow for true collaboration.
The Anaplan modeling engine provides enterprise scale flexibility so planners can create planning solutions catered to the needs of their organization. Enterprise users can develop their own planning applications or leverage existing ones in the Anaplan App Hub.
Anaplan also announced its new Application Lifecycle Management (ALM) capability, which is an industry first feature set that supports full application management from design through development, testing and delivery. It's one of the first for a cloud-based platform and provides a differentiator for Anaplan.  It is extremely critical that planning applications be easier to manage throughout the lifecycle for better governance.
Opportunities for Anaplan
We had some great conversations with Anaplan executives and discussed future plans and vision. We believe that since the Anaplan platform is open and flexible, it will move towards deeper integrations with critical business applications. An area of opportunity will be with integrations into enterprise communications and collaboration applications and platforms. With the rise of team messaging and collaboration applications, there is a need for conversational experiences within enterprise business processes and workflows.
The Anaplan concept of connected planning will be enhanced with collaboration features that support persistent and real-time interactions with content in context. Anaplan doesn't need to develop this themselves per se, but via open APIs can bring advanced collaboration capabilities into modeling and planning workflows. The idea is to create a conversational environment that supports conversational experiences internally and with external constituents.
The next area of opportunity for Anaplan is around AI and machine learning algorithms. I applaud Anaplan for not getting into the hype and buzzwords game about AI and chatbots and what have you. They have been truly focused on the core platform and delivering results for customers. The opportunity here will be leveraging the wealth of data at its disposal to further automate modeling and planning for intelligent business decision making for customers.
Final Thoughts
Connected planning has to be the goal of every organization in order to be a connected, conversational enterprise. Enterprises have to move towards being conversational with a seamless mix of people, data and applications in a contextual web. For connected planning to work, it has to be based on a scalable, flexible cloud platform that supports collaboration. Modeling the future for effective planning is a cross-enterprise process that requires support for a seamless collaborative interaction continuum.