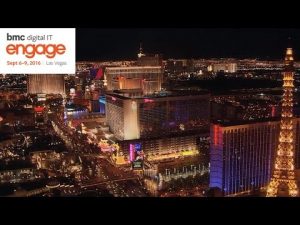 Spending time at the BMC Engage 2016 conference in Las Vegas September 6-9, revealed that BMC is sharply focused, in my estimation, on supporting a people-centric Digital Workplace. Oftentimes we hear the terms digital transformation or digital workplace, and the focus goes to technology or a specific process, but leaves out the fact that it is a never ending synergy of people, technology and processes, that encompasses every business domain and the work that people do. Digital Workplace transformation teaches us that the days of business silos are over.
I've been saying, the digital workplace is an experience not a destination. It is not a mystical place called "there!" It is a living, breathing, fluid amalgamation of people, culture, technology, and the people processes that involve connection, communication and collaboration. (see The Digital Workplace is an Experience, not a Destination).
Key Initiatives
The key initiatives BMC focused on at this year's conference, were driven by its overall Digital Enterprise Management (DEM) strategy. There were seven major customer-centric key initiatives to foster a path to digital business success. The key initiatives were:
Agile Application Delivery: Accelerate delivery of agile applications across multi-sourced cloud environments for both cloud-native and traditional applications, including monitoring, workload automation, environment-on-demand, and release automation.
Digital Workplace: Build a digital workplace that enables businesses to improve workforce agility, employee productivity, and the customer experience by transforming the corporate culture to revolve around employees' needs.
Big Data: Automate, accelerate and secure the integration of big data into the enterprise environment, enabling operations excellence to support customers' digital business innovation agendas.
Service Management Excellence: Provide end-to-end management of digital and traditional services allowing businesses to support rapid change, end user expectations, and the proliferation of mobile, hybrid, and cloud infrastructure.
Multi-Source Cloud: Leverage existing IT resources while integrating into public and private cloud environments, giving organizations greater control of their data, improved application performance and efficiencies, and enhanced collaboration, all while helping to centralize IT management.
SecOps: Deliver visibility and facilitate communication between security and operations, to remediate threats quickly and accurately in order to confidently protect the business and customers.
IT Optimization: The funding of innovation largely comes from the continuous optimization of core IT systems, including but not exclusive to the mainframe.
People-centric Strategy
At the Engage conference this year, I was thrilled to see BMC focus on reality in their messaging and not hype as it laid out the above key initiatives. There was a people-centric focus in its strategy that resonates with what companies are experiencing in this era of digital transformation. Strategies have to be geared internally to employees and externally to customers and the extended workforce of partners and suppliers.
I was particularly drawn to BMC's plans to support the digital workplace across its IT Service Management (ITSM) portfolio and digital workplace solutions, showcasing innovative offerings like MyIT. MyIT is specifically interesting, as the name doesn't explain all it really does. It's more than IT. MyIT is a user portal to services across IT, HR and the entire business. It supports self-service, which empowers users to access a myriad of services to get their work done, thus helping to foster employee engagement. MyIT brings access to the entire BMC portfolio and partner solutions in its Marketplace.
The Ecosystem
For any technology provider to grow or succeed, it's partner and developer ecosystem is critical. BMC was straightforward that this is a goal, with further work to do. The ecosystem is evolving with an expanding marketplace of partner solutions. This area requires focus, but if done well, will prove to be part of the soul of BMC growth and expansion. The ecosystem will allow a thousand BMCs to bloom globally.
Final Thoughts
I believe BMC's evolved approach will resonate with IT and lines of business leaders because of its people-centric nature. However, BMC will be keen to customize this specific to industries and target roles. This will also require in my opinion a focused effort around services. The ecosystem will play a huge part here. Services will allow BMC to showcase its expertise more as a trusted advisor along with being a technology provider.