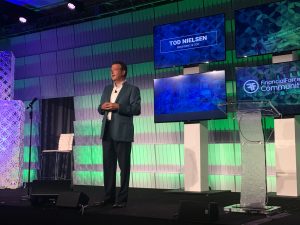 I recently attended the FinancialForce Community Live event in Las Vegas, June 19-21, 2017, where the company outlined its strategy in light of the pivot to a services company. And rightfully so, I agree wholeheartedly that we are moving to a services economy. I believe all technology companies are trying to figure out services and having a renewed focus on user experience. Several interesting announcements highlighted the week, including a sharp change of course on HCM with the ADP partnership. More on that later. However, on a lighter more fun note, Leslie Odom Jr. of Hamilton fame, kicked off the event with a great inspirational keynote and performance. As FinancialForce's first major user event with industry analysts and influencers, it was well attended and very well organized. So kudos to the team!
As mentioned earlier, one of the major announcements was around the ADP partnership, which denotes the going away of the FinancialForce HCM capabilities via the Vana Workforce acquisition in 2013. This was huge to me, because the initial premise of the acquisition which coincided with the Less Software acquisition and its supply chain management (SCM) capabilities, was to blur the lines between front office and back office systems. In a nutshell the strategy was about enabling a single user experience across the enterprise.
What FinancialForce is doing now is moving away from being a full HCM provider itself, and outsourcing that to ADP with deep integrations back into its core platform. FinancialForce will focus then on its ERP services. So the complete picture of this services strategy and vision will be laser sharp focus on Professional Services Automation (PSA), financial management and the integration of the ADP HCM capabilities. A benefit of the ADP partnership will be integration of payroll directly into company financials which would give great visibility into the books, especially for balancing purposes.
I spoke with an HR director of a large consumer packaged goods firm about this, who explained that the direct integration of payroll into financials would be a welcome solution in her environment.  Due to multiple systems with weak integration, they consistently have payroll issues. She also cautioned, that while it would be a welcome integration, the focus should be to manage from a people perspective, not from financials solely.
FinancialForce CEO Tod Nielsen made it a point to reiterate they are still all in on HCM. In a quote from the initial announcement, he states:
"HCM continues to be critical to ERP, particularly for services-based companies. This strategic partnership will give our customers a leading, comprehensive HCM solution that streamlines HR processes – including payroll – and integrates seamlessly with our leading ERP. The combination of FinancialForce ERP and ADP will improve visibility of customer needs and employee capacity to address those needs."
We believe FinancialForce as it focuses on services will prioritize talent management for PSA, thus enabling services companies and industries. ADP will integrate to provide the broader HCM capabilities.
Tod Nielsen made another pivotal announcement, explaining that the company, while partnering even deeper with Salesforce under his leadership, will no longer build its entire application stack on the Force.com platform, but will be building some components on Heroku. As a former Salesforce platform head, he's probably one of the most qualified to lead this effort and maintain a strong partnership.
Overall, we're seeing a new, bolder, focused FinancialForce, that is all about services, but knows it must prioritize around its core strengths. I believe a strong focus for FinancialForce has to continually be around its ecosystem of partners. This will be key to its services strategy, that will figuratively allow a thousand FinancialForces to bloom! Also, messaging of this new strategy and focus should be role and industry based so it resonates clearly with lines of business leaders.