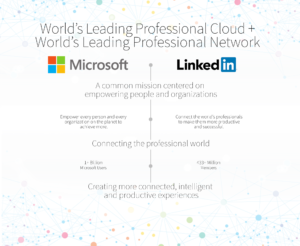 Microsoft, on June 13, 2016, announced it was acquiring LinkedIn for $26.2 Billion. LinkedIn, a Social Network for professionals has 433 million users. LinkedIn will keep its branding and product as it comes under the Microsoft Productivity and Business Processes segment. LinkedIn's CEO Jeff Weiner will report to Satya Nadella. The deal is expected to close by the end of the calendar year.
Analysis
Microsoft's acquisition of LinkedIn is an enterprise platform and services play as Microsoft builds out its services portfolio to connect the Global Digital Workplace. It nets Microsoft the full LinkedIn user base of 433 million users and all of their professional data. Microsoft will get LinkedIn's full social graph. My first thought was that, this is a competitive move to enhance Microsoft's Dynamics CRM tool which competes with Salesforce. Microsoft will leverage LinkedIn's Sales Navigator and its robust information about users to bring deeper insights to Dynamics customers in bolstering sales cycles. This will be rich data about your contacts from a sales perspective. The heart of this deal though is all about the people and business data Microsoft will now have at its fingertips.

LinkedIn is a hub for professional social networking and used for recruiting, finding jobs, selling, marketing and skill building. Microsoft now potentially becomes a central hub for professional social networking and business services. This expands Microsoft's reach across desktop and cloud office productivity tools, business applications and social networking. However, this is focused social networking with professional and business outcomes in mind. This is a very smart move by Microsoft.
On the Microsoft and LinkedIn call about the acquisition, Satya Nadella emphasized this is about connecting The World's Leading Professional Cloud + The World's Leading Professional Network.
Microsoft Gets Into Recruiting, Talent and Learning
Microsoft gets LinkedIn's learning assets from its acquisition of Lynda.com.  This can potentially give Microsoft a social learning platform that can enhance customer support and increase learning resources for its own products and services.
The learning and training resources also gives Microsoft a play in the recruiting domain and the assets to address the skills gap in enterprise Talent acquisition and management programs. The acquisition also gives Microsoft a stronger opportunity in the HCM and Talent Management platform market. HCM and talent Management providers should be watching this very closely.
Artificial Intelligence
With the Cortana intelligent assistant, Microsoft can now bring in and leverage a broad range of data to better assist individuals with predictive services and insights. Also, Microsoft customers can now potentially get better talent and recruiting insights to make better talent decisions. Understanding the full talent continuum from pre-hire throughout the employee lifecycle, will enable better insights into skills and learning needs.
Combining the Microsoft graph and the LinkedIn professional graph to bring in insights,  can give a lot of data and information which will fuel Microsoft's machine learning and AI work.
Microsoft Now Owns Rich Profiles
I believe one of the far reaching implications here will be the potential for a richer and expanded individual profile. Aggregating a user's or employee's profile information across their Microsoft cloud network and their professional network will bolster search and the ability for finding expertise. Finding individuals with the skills you need will be potentially easier.
Facebook and Google
The other elephant in the room, is that Microsoft alongside Facebook now has a vast and large social network. The potential treasure trove of the data inherent in the LinkedIn network is beyond valuable to Microsoft. Facebook and Google have amassed a ridiculous amount of data about people, their behaviors and contacts. Microsoft now moves into this circle alongside Facebook and Google, which makes this a very competitive move.

Final Thoughts
There are so many potential benefits here, but the challenge will be in the details as the work towards integration will be tough. LinkedIn and Microsoft represent two distinct cultures, which will require a high degree of change management. However, from a platform perspective this is a great and industry defining move. Microsoft essentially expands its platform and ecosystem with a richer set of APIs to integrate into and enable business processes and applications.