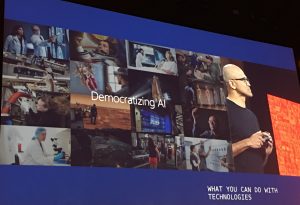 Microsoft Ignite 2016, held in Atlanta, September 26-29, has come and gone. However, it positioned Microsoft clearly as a leader and leading voice in cloud infrastructure, collaboration and artificial intelligence (AI). There were lots of announcements around products and services for security, productivity, collaboration, AI and cloud. The major categories I'll focus on are Cloud, AI and Collaboration. Ignite saw Microsoft focused on a "cloud first" and "mobile first" paradigm shift. But what I found interesting, was a significantly more open and transparent Microsoft that focused all announcements on improving people experiences.
With that openness, there were lots of partner announcements and activity that capped off the week. The Microsoft ecosystem is most definitely deep and extensive. Skype for Business and Office 365 made big splashes as Microsoft showed some integrations between them to boost collaboration and user productivity.
Microsoft Partners With Adobe
Satya Nadella and Adobe CEO Shantanu Narayen announced that Adobe is now bringing its Marketing Cloud to the Microsoft Azure cloud platform. While Microsoft Dynamics 365 has focused more on sales, this will potentially make Adobe Marketing Cloud the goto digital marketing solution for Dynamics.
Democratizing AI
Democratizing AI was a central theme and one that Satya Nadella drove home clearly in his keynote. The vision and strategy is summed up in this statement from Satya: "Core to our mission to empower every person and organization on the planet is democratizing AI for every person and organization to help solve society's most pressing challenges. To do this, we're infusing intelligence into everything we deliver, from the agent to applications, services and infrastructure."
New AI capabilities will be coming to Microsoft applications and services. Cortana will have new capabilities for reminders with apps such as Wunderlist and health insights for individuals from the Health cloud, which leverages machine learning.
In Office 365, data will be surfaced and exposed in all applications so that insights will lead to better intelligent decisions. We'll see signs of this with intelligence in the Outlook inbox and Skype translator.
Delve Analytics is now Microsoft MyAnalytics, which is a personal analytics service inside of Office 365 that helps people get insights to understand how they work and discover ways to better work with colleagues and teammates.
Azure Cloud Platform
Microsoft cloud announcements shows it is charting a course towards an AI powered supercomputer. It is using Custom developed field-programmable gate arrays (FPGAs) to bring AI to near real-time, which will make Azure an AI supercomputer. Microsoft announced the following details:
Windows Server: Windows Server 2016 will be generally available in October, giving IT professionals new layers of security and Azure-inspired innovation for infrastructure and cloud applications. Microsoft and Docker Inc. are extending their partnership to make the Commercially Supported Docker Engine available to Windows Server 2016 customers at no additional cost. System Center 2016 will also be generally available in October, offering a simplified management solution across the datacenter and the cloud for Windows Server 2016 software-defined datacenter features.
Azure: New Azure monitoring abilities, combined with Operations Management Suite updates, help IT manage cloud and on-premises assets from one place.
Azure Stack: The next technical preview of Azure Stack brings Azure technology to customers' datacenters, furthering Microsoft's unique hybrid differentiation.
AI: Microsoft is also advancing a vision of what's possible with intelligence and machine learning using the world's largest deployment of custom developed field-programmable gate arrays (FPGAs), spanning 15 countries and five continents. These FPGAs could be used to accelerate AI to near real time, making Azure the foundation for the world's first AI supercomputer.
Communications and Collaboration
Microsoft made several announcements around its collaboration and productivity capabilities. It announced that Yammer will be integrated with Office 365 Groups, bringing together what was overlapping capabilities. This will allow Yammer users to seamlessly access SharePoint sites and document repositories. There will be a shared OneNote notebook and task management with the Planner tool.  
The focus was on improving people experiences and helping them deal with information and document overload. There will be updates to Office 365 profiles, a new Delve app for Windows 10 desktop and mobile and people cards that surface profile information and content throughout Office 365.
Skype for Business has evolved into a communications and collaboration platform that is aimed at collaboration enabling business processes and applications. Skype for Business will now be available on Apple Macs. It will have a new client, which was built using Swift, the Mac programming language. It will support a "one click" to join meetings capability and HD video for meetings, including PowerPoint. Gurdeep Pall also announced that coming soon, iOS 10 will be able to alert users when they are getting a Skype call on their iPhones.
Note that most of these new and modern collaboration client features will happen on the Apple side first, according to Gurdeep Pall. The enabler for this will be the Apple CallKit Framework. For enterprises or organizations planning to move to Skype for Business, Microsoft has introduced the Skype Operations Framework program to provide resources and tools, including support from partners, to assist in those moves.
Other noteworthy announcements include, Skype Meeting Broadcast, which will get real-time language translation and transcription this year, supporting meetings that scale to large live online audiences. Also, Microsoft will be expanding its Skype for Business PSTN conferencing service.
Organizations with regulatory compliance requirements will be able to provision Skype for Business to leverage the nearest regional datacenter to host meetings. Regional hosting will be a welcome option for regulated industries.
With the significant partner activity at Ignite, Skype Room Systems, which was previously code named Project Rigel, will bring meetings to conferencing equipment in conjunction with several partners. The partners involved in this effort are:
Crestron: Will ship Skype Room Systems solutions in December 2016 with Surface Pro 4 touch screen integration.
Logitech: Will ship SmartDock, a meeting room console for Skype for Business.
Polycom: A very strategic Microsoft partner, will ship its MSR Series for Skype Room Systems in Q1 2017. Polycom also provides its RealConnect Service for Office 365, which enables videoconferencing using existing equipment. The Microsoft Azure datacenters will be leveraged to deliver these videoconferencing services.
Final Thoughts
Microsoft clearly showed a more open and transparent approach, which speaks to the continued expansion of its already huge ecosystem. We are seeing a paradigm shift in the enterprise software space, where technology providers are moving quickly to add adjacencies to their existing portfolios. Software capabilities are becoming services that can be embedded in applications down to the level of a business user's process.
This move to software and services requires a higher level of openness and partner collaboration than ever before. There is a growing recognition that the reality is now about "information before infrastructure." With that, cloud scale and intelligence is required to democratize access to people, information and insights to make better business decisions. Microsoft is already ubiquitous in enterprises on many fronts. With its push to cloud, mobile and democratizing AI, we believe Microsoft is well positioned to deliver on enabling contextual people experiences.