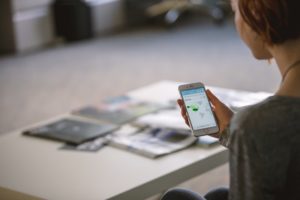 As I discussed WeChat being a sign of things to come for mobile messaging platforms in What WeChat Means to WhatsApp, Facebook Messenger and the Rise of Consumer Mobile Messaging Platforms, the other move is for providers to then leverage the popularity and user base of their consumer mobile messaging platforms and networks to target enterprises and enterprise users. The challenge will be in successfully courting business leaders and security minded enterprise IT leaders.
Mobile Messaging Moves to the Enterprise
On Monday, April 18, 2016, Tencent announced the launch of a new workplace communications app called Qiye Weixin, or Enterprise WeChat. It's quite comparable to Slack and will be targeted to enterprise users. So far the app was launched and is available in mainland China. Companies will have to register first so employees can access all the features.
Note the similarities here with Facebook At Work, which is promised to debut later in 2016. There are already many pilot deployments thus far for Facebook, with well known brands such as Heineken and RBS on board. This is significant! These moves show popular consumer mobile messaging and  social networking platforms leveraging their success to target the enterprise with private or secure mobile communications and collaboration capabilities. It also brings competition from an unlikely source to challenge existing enterprise unified communications and collaboration (UCC) providers. It's also a challenge to mobile collaboration providers such as Atlassian HipChat, Slack and Zinc (formerly Cotap).
Interestingly, UCC providers such as Cisco and Unify, already have their own mobile collaboration platform offerings in the market, with Cisco Spark and Unify Circuit respectively. Jive Software has also unveiled its Workstyle Apps for enterprise mobile collaboration. These offerings also represent a platform and ecosystem play to build a community of developers around it. Other mobile collaboration providers such as MindLink, Biba, Lua, RingCentral/Glip and Moxtra are also emerging. It will be interesting to see how this space shapes out with consumer messaging providers penetrating the enterprise.
The sheer number of the user base of popular consumer mobile messaging apps and platforms give them default penetration with business users. Will enterprises adopt the for business solutions from these providers is the pivotal question. Will these offerings have sufficient security and management capabilities that will warrant enterprise planners to evaluate?
It's More than Facebook and WeChat
As Facebook is  following WeChat's approach towards a mobile messaging platform that provides services, WeChat is in turn following Facebook's move in the enterprise to provide a business productivity and collaboration solution. Enterprise WeChat will also handle administrative tasks such as employee leave and expenses and reimbursement processes.
While I've called out Facebook and WeChat, it's about more than these two large networks. LinkedIn now has communications tools so enterprise users can share content such as articles and blogs. People already message inside of LinkedIn. Consumer apps and networks have become part of people's everyday lives, and a place where they already discuss work. Enterprise users already bypass IT controls and use consumer messaging applications to communicate with external parties for business purposes.
Years ago consumer instant messaging (IM) networks became popular and penetrated the enterprise. Some of those consumer IM tools like Yahoo and AOL tried their hand in offering enterprise versions. Subsequently enterprise IM offerings emerged to add security and administration capabilities from providers such as IBM, Microsoft and Cisco. These IM platforms then evolved to become the UCC platforms we see today with converged communications and collaboration capabilities. So there is precedent for consumer mobile messaging networks to move into the enterprise sector. There is also precedent for traditional enterprise collaboration providers to respond with offerings of their own.
Final Thoughts
Enterprise Collaboration has converged around cloud and mobile. Because of this the barrier to entry for new entrants is removed. Even more so, consumer mobile messaging networks have already achieved global penetration levels and have become a significant part of how people communicate everyday. This symphony of trends leads to the dawning of an increasing amount of choices to support enterprise collaboration and productivity. Stay tuned!!!