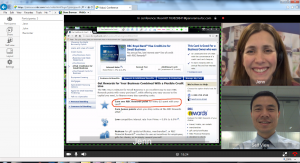 On 13 December 2016, Vidyo announced its work in helping the Royal Bank of Canada (RBC) offer free Video Chat services to its Small Business customers. Small Business customers can now video chat with bank advisers from anywhere and on any device. Vidyo has emerged as an innovative player in video enabling a myriad of business applications and processes across multiple industries. In this recent move, Vidyo advises,  RBC is now the first bank in Canada to offer remote video banking as a valuable free service to customers.
Analysis
What Vidyo has been doing is more than just embedding video into business applications. This is about video enabling business applications, processes and workflows. As the largest bank in Canada, RBC is allowing small business representatives to have face-to-face conversations with their banking advisers to replicate the in-person banking experience and relationship. Having visual cues enhances the customer experience and is a natural extension and part of the complete banking relationship.
What I have discovered in speaking with millennials and banking customers of all ages and demographics, is that the digital transformation trend that is impacting banking and all industries, has not taken away the desire to have a personal banking experience. People like the experience of a face-to-face banking relationship along with the flexibility of digital interactions. RBC, via Vidyo's technology is enabling that kind of flexibility to users.
Content at the Center
Unique in what RBC is offering is a content sharing feature, which will allow small businesses to share charts, graphs, spreadsheets and other critical documents with their banker in real time from right within the video call. The video chat or call itself  is not the end all be all here. People collaborate and interact around content. Germaine to the banking relationship is documents, forms and other types of content that critically needs to be shared in context via virtual interactions.
Focus on Video Performance
For video and data transmissions to go smoothly over multiple devices including mobile, quality and stability is critical. Bandwidth connections will run the gamut with some being quite subpar. The technology will have to be adaptive enough to seamlessly deliver high quality, secure video to any endpoint. Vidyo has invested heavily and developed high expertise in this area, with their video technology and service being used by the likes of Google and the US Department of Defense (DoD) to name a couple.

Video Enabling Business Workflows
The Vidyo technology is being brought to bear upon RBC's Contact Center to support 24/7 access to banking services and expertise. For small business customers on the go, real time access and assistance is critical. Adding visual communications will enhance the customer experience and relationship.

We anticipate more banks will move in this direction. We also anticipate Vidyo will be ahead of the pack in video enabling banking workflows. RBC will be extending this service in the future to other areas and customer types.
Final Thoughts
Digital disruption is impacting all industries and verticals. Customers have access to brands and organizations in ways they never have before via digital technology. It behooves companies to focus on enhanced customer experiences and support multiple channels of communications. RBC understands that you have to meet customers at the point where they want to interact and on the devices of their choice. It is the "customer's" experience, which means that they should own it. Banks have to interact with customers on their terms. This is the disruption and the digital transformation that is already taking place.