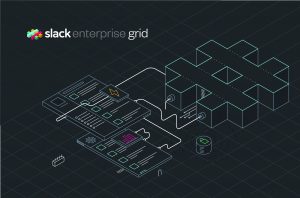 Slack announced the launch of its Enterprise Grid platform on January 31, 2017, which addresses enterprise grade scalability and security and deeper integration into people's business applications and processes. Slack maintains that the platform is designed to scale from 500-500,000 employees.  Slack also had several large reference customers at its launch, which includes Capital One, IBM and PayPal. To be clear, Enterprise Grid is not an upgrade to the existing Slack product, this is a brand new enterprise platform and offering.
Enterprise collaboration is currently at a crossroad with traditional methods and tools being challenged and disregarded for newer more flexible cloud-based and mobile first tools and methods. Cloud and mobile have become the convergence point whereby access to tools and information have been democratized. This trend that impacted people's personal and consumer lives has now raised expectations in the workplace for how people want to work and the tools they need to get their jobs done.
Slack has somewhat become the poster child for a new mobile first and flexible way of working collaboratively with internal and external colleagues. It's a messaging and conversation based paradigm in which context is kept intact. While I have called this mobile collaboration, at the heart, it is more about collaboration in the flow of how people actually work.
What Slack is now doing with Enterprise Grid is offering an enterprise grade platform that can scale to support how people collaboratively work in their respective business processes. Key to this will be integrations into specific business applications to collaboration enable workflows.
Slack Enterprise Grid Capabilities

Unlimited Workspaces: Enterprise Grid boasts unlimited workspaces that can be aligned to the various teams, departments, locations or groups within an organization. Enterprise level controls will give administrators controls for setting permissions and configuring integrations per each workspace. This will provide project or business process based context so people can access the people, information and applications relevant to the work they are doing.
Shared Collaboration Channels: To some of us who remember the IRC (Internet Relay Chat) from the 1990's, chat channels aren't new. Slack revived the focus on persistent group chat channels for the modern workplace. However, project work and the processes people are involved in requires coordination often between multiple teams, groups and departments. Enterprise Grid will allow administrators to create shared channels between workspaces for better cross-team collaboration and sharing.
Unified Infrastructure: Enterprise Grid has a unified infrastructure that possesses a single layer that spans across the entire company for discovering information, people and relevant workspaces. This unfied layer has access to Slack tools so users can connect with people information and all workspaces from a single login and access point. This solves the problem of the disconnect that can occur with multiple different Slack instances throughout an organization. It allows people to discover teams, workspaces and information.
Enterprise Security and Governance: In speaking with business leaders, one of their concerns about Slack was that of security. This came up in every conversation I have ever had with enterprise collaboration planners along with scale. With Enterprise Grid, Slack has added security features and policies such as data retention that can be customized for each workspace. Grid has achieved FINRA and HIPAA certifications for Slack's vertically focused offerings in Financial services and Healthcare industries respectively. Along with security, Grid now promises the necessary administrative controls and governance large enterprises require.
Integration Into Enterprise Applications: Alongside integrations into Salesforce, GSuite, IBM, Adobe and Box, Grid has added integrations into SAP across SuccessFactors, Concur and the Hana cloud platform. This is a strategic partnership with SAP that Slack explains will provide bots, which bring real-time reporting and feedback on performance goals, message-based expense and travel management, and options for running chatops development workflows in Slack. Slack has already been able to connect to other enterprise tools via bots or agents. This is one of the key features that attracted developers and led to its rapid emergence. The ability to enable this at enterprise scale will benefit cross-team collaboration in large organizations.
Keys To Success For Slack
I believe the keys to success for Slack here will be to continually build out its ecosystem of partners. This will be critical as developers can continue to build apps for specific business workflows and applications that are relevant to business users. Also, while Slack is making efforts in this area, it is critical that a major focus be on verticals and key roles so that benefits of the Enterprise Grid platform resonates with lines of business leaders.
Collaboration has to be focused on specific business outcomes. Tools that remain above flow and never come down into the flow of people's business processes and how they work will face adoption challenges. It is important for Slack here to speak vertical industry specific language and role specific language in areas such as Sales, HR and Marketing so that Grid is positioned to address real business needs that people care about and that will impact the bottom line.
Final Thoughts
Slack enters a market now that has been dominated by the likes of Microsoft and an emergent Google. Facebook is also mounting a charge in this space with its Workplace offering.  Obviously Slack has to gain the trust of enterprise planners by speaking to core needs on governance, security and integration. That's the goal of Enterprise Grid. Before Grid, there were real concerns about Slack really penetrating enterprises. Slack has work to do as far as the enterprise is concerned. However, if its early large enterprise reference customers are a sign, I'm optimistic Slack has a chance here to be a serious challenger to market incumbents.