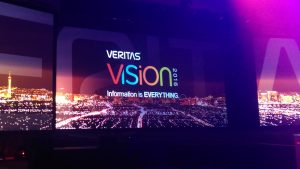 I truly believe and say often that information is the lifeblood of every organization along with its people. In fact, I believe the major digital disruption and transformation we are witnessing in business is in large part driven by the information enabling of everything. That is the big disruption behind Waze, Uber and Airbnb to those respective industries. It is the power of information behind those startups that drove and continue to drive disruption. The same can be said for Google, Facebook and LinkedIn.
The Veritas Vision
As I attended the Veritas Vision 2016 conference in Las Vegas, Sept 12-14, the clear strategy from CEO Bill Coleman was to continue building out the Veritas enterprise data management platform. Clearly, it's about information before infrastructure in our current business climate. Organizations that fail to realize that get disrupted by even the smallest unforeseen competitors.
As Coleman expounded on the platform, he highlighted it will be technology agnostic, software-defined and policy driven, and able to deliver real-time insights from queries of your data. This will get into the ability to utilize predictive analytics and machine learning capabilities to enable better business decision making. The Veritas vision is the journey towards that robust enterprise data management platform to help organizations that are all struggling with information management. Business leaders clearly need better visibility into their enterprise data so that they can take the right action based on clear insights.
The Key Announcements
There were some key announcements that encapsulated what the Veritas vision was all about. Veritas announced collaboration with Red Hat to support business critical enterprise applications on OpenStack. The two companies do have a long history of technology collaboration around solutions for Red Hat Enterprise Linux and Red Hat Virtualization.
Veritas also announced its overall plan for a broad range of cloud data management solutions to help organizations as they chart the course for operating as a digital business. These solutions contain what Veritas refers to as three foundational pillars for helping enterprises manage their data. The pillars and a snapshot of what they include are as follows:
Pillar: Data Protection
Efficient Backup and Recovery with Support for a Broad Range of Cloud Environments
This flexibility to support multiple cloud environments will see future releases of Veritas NetBackup solution add connectors to Microsoft Azure and OpenStack cloud environments. Amazon Web Services (AWS) and Google are already supported.  
Pillar: Data Availability
Enterprise Grade Power for OpenStack Private Cloud Environments
The new Veritas HyperScale for OpenStack, a software-defined storage solution, shows Veritas aligning with the open source community, will allow organizations to deploy their OLTP tier one and tier two applications on OpenStack environments and ensure storage quality of service and application resiliency.
Software-Defined Storage with Resiliency and Performance at Scale
The newly announced Veritas Access will provide accessibility to data, whether it resides on or off premises, in AWS or OpenStack clouds. Data can be moved seamlessly to public clouds like AWS with an automated policy engine based on file metadata.
Scalable Hybrid Cloud Resiliency for Today's 24×7 Organization
In the new releases, NetBackup will integrate with Veritas Resiliency Platform to enable IT to orchestrate complex recoveries for thousands of virtual machines with single-click automation. Resiliency Platform allows organizations to implement a unified resiliency strategy for complex, multi-platform and multi-vendor hybrid cloud environments.
Pillar: Data Insight
Delivering Protection with Integrated Visibility to Reduce Risk and Costs
With one of the key messages being visibility into data, Veritas also announced NetBackup and Information Map will be integrated to provide data visibility and data protection, in a joint solution to address the management of unclassified and unstructured data.
Final Thoughts
Veritas Vision 2016 was the first Veritas conference as an independent company after its split from Symantec. It prompted CEO Bill Coleman to announce, "we're back," in his keynote. What impressed me though, was the renewed focus throughout all the announcements on information management and enabling better visibility into enterprise data.
I believe Veritas is positioned at an interesting juncture, where it can emerge as a leading voice, educating the market on the power of information being the key to digital transformation. The key will be in helping organizations harness the power of information.
I also believe for Veritas to be successful, it has to continually focus on building out its ecosystem and community of partners and developers. Services will be key here as Veritas has amassed a vast amount of information management expertise to bring industry specific solutions to the market. Messaging should be laser focused on information management and how that supports the Digital Workplace and how people work. Again, it should also be broken out into industries and target roles to truly resonate.