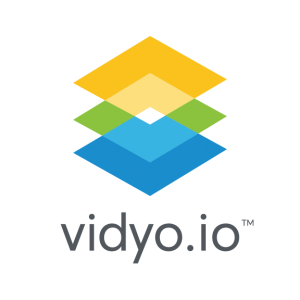 Vidyo Announcement: Today, on 25 January 2017, Vidyo announced the launch and availability of its Vidyo.io Communications Platform as a Service (CPaaS). In regards to details, Vidyo.io enables developers to embed video collaboration into any native, mobile or WebRTC application. Any business application can then be video-enabled with the Vidyo technology.
Analysis
I've been tracking Vidyo as an analyst for years and they have always been very committed to scalable video infrastructure to video enable business applications. I like to call it video with a purpose. Vidyo has been an innovator in this regard.
Oftentimes enterprise planners make video technology investments in a vacuum without properly establishing the business purpose and outcome. With Vidyo.io, I believe Vidyo is democratizing access to scalable multiparty video collaboration technology to developers and enterprises.
The Vidyo Cloud-Based Infrastructure
Looking at the Vidyo.io platform, what developers are getting here is all the infrastructure without having to worry about the back end investment such as on-premises hosting or even deep video coding expertise. This will enable developers to easily integrate video collaboration into any application at very low costs. Vidyo.io provides the SDKs for web browsers, Mobile operating systems such as iOS and Android, as well as macOS and Windows.
Also, in regards to video, network and bandwidth issues are huge concerns. The Vidyo cloud-based infrastructure has adaptive bandwidth management capabilities to shape and route video streams in real-time to any endpoint and reduce connectivity issues. This is very crucial to maintaining high quality and consistent video delivery even on mobile devices.
Significance of Vidyo.io
I believe the significance of Vidyo.io is that it denotes an innovative trend that we are just on the cusp of. Collaboration technology is evolving from proprietary stacks to PaaS platforms, where capabilities become services via APIs and can be embedded into other business applications. The platforms themselves can be extended to provide even more functionality by developers. The key is making the platform open and building the developer ecosystem around it. This developer community and ecosystem should include systems integrators, a diverse set of developers and cloud integration service providers.
We are in an API and algorithm based economy, where business leaders are looking for specific capabilities to support specific business functions. Collaboration and specifically video collaboration in this case, has to be outcome based and focused on intended business processes. Application services in specific areas such as sales, marketing and HR will become commonplace as PaaS offerings evolve.
Final Thoughts
Video conferencing has become a critical enterprise tool. Supporting video collaboration has proven itself to be effective for cutting travel costs, reducing time and increasing productivity when applied correctly to business processes and how people work.
Planners have to continually look at video and leverage it for specific business applications. This is why democratizing scalable video infrastructure, like with the Vidyo.io video CPaaS, will be critical for enterprises that need to video enable business applications. This will address the changing dynamics of the workforce which is distributed and mobile. Having visual cues with video collaboration in key business processes will lead to better decision making, and ultimately desired business outcomes.