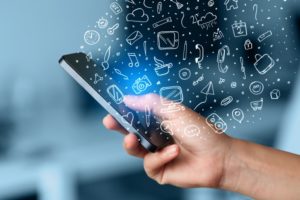 WeChat, which is a very popular mobile messaging app in China, has emerged as a prototype if you will, to where I believe mobile messaging is headed. It's more than just the current hype around chatbots, which have been around for years. This is about platforms and ecosystems that then serve as a place where developers can build multiple services for users via APIs. Albeit, chatbots can then be included or built to provide specific services like automated customer support and communications. I believe the WeChat approach, or a mobile platform and ecosystem is the direction Facebook wants to go in with WhatsApp and Facebook Messenger.
When Users Equate to Revenue
Having spent time in Shenzhen, China, headquarters of WeChat's parent company, Tencent Holdings Limited, it became apparent it was an imperative and critical that I get on WeChat to communicate with my new Chinese friends. While WhatsApp is the biggest mobile messaging app in the world with 1 billion users, WeChat boasts around 700 million users and receives $7 per user in revenue from services provided on its platform. Facebook Messenger itself has a reach of 900 million users.
Mobile Messaging as a Platform for Services and Payments
Users use WeChat for ecommerce, payments, banking and a slew of other services. Specifically, you can get a taxi (ala Uber from local rideshare service Didi dache), schedule doctor appointments, buy theater tickets and order food. In fact I was requested to join a group on WeChat in support of a newborn baby who needed to have a life changing operation. Donations were made through WeChat. Unfortunately, that beautiful little angel did not survive the operation. A multitude of heartfelt condolences from people globally were communicated and shared in this group. But this is how integral WeChat has become.
How did WeChat emerge to become this platform and portal for all these services? Similar to how Facebook became a part of the social fabric of our lives, WeChat became a part of the social fabric in China but also an integral part and means or vehicle for accessing useful services in multiple areas of people's lives. Since people's lives became more mobile, WeChat evolved to become a mobile lifestyle app. In so doing, it became elevated as a platform, where multiple different providers can then provide useful services to users and receive payments. There are an innumerable amount of apps and services inside of WeChat.
Imagine if WhatsApp could become such a platform or portal of services, with its 1 billion users. Imagine the same for Facebook Messenger. WhatsApp has made the app free for users and will only charge businesses to use the app to speak or interact with customers. The initial strategy is a customer services move, but could potentially move beyond that to become a platform of services for ecommerce, banking and gaming.
Similarly, Facebook will now let businesses offer automated customer support in Facebook Messenger via chatbots. Facebook has a huge developer ecosystem. Developers can build their own bots or work with Facebook's ecosystem of partners who build bots. Keep in mind Facebook has its own Bot engine and digital assistant, Artificial intelligence, M.  
For Messenger, Artificial Intelligence (AI) and natural language processing (NLP), will be leveraged to enable users to communicate with Messenger bots for restaurant reservations or for guidance around an ecommerce order. While Facebook Messenger users can order an Uber now, Facebook has not yet allowed direct payments in Messenger via credit cards. I believe this is the direction Facebook is going here though with a robust mobile messaging platform for services.
As WeChat lets businesses have accounts to provide apps and for pay services, WhatsApp's new service to businesses could also evolve beyond social messaging. Facebook Messenger with bots enabling communications can also evolve into a full platform to offer direct services to users and receive payments.
Final Thoughts
So there is a lot of movement in consumer mobile messaging. While bots or chatbots are receiving a lot of focus, I believe it's just a part, albeit a significant part of the overall picture here. The context for chatbots in this case will be how they enable communications and interactions within a mobile messaging platform that can provide useful services to users. This can potentially be for paid services, such as ecommerce,  which will require bots to enable and automate intelligent customer support communications capabilities.
For a follow up to this post on the enterprise implications, see From Consumer Mobile Messaging to Enterprise Mobile Collaboration.